Let Us Produce Your Videos
We have deep experience in videography and production, from pre-production, production, post-production and distribution. Our high-quality work has brought us repeat clients and a bevy of awards, including 10 Emmy awards. We bring cinematic creativity to your brand story through video.
Money on the Screen, Not In The Snacks
Scratch Media is a San Diego video production company with experience in every facet of producing corporate video for clients all over the world. We know how to put your money where it matters. From creative video concept, pre-production, production, post-production and distribution. Our quality work has brought us repeat clients and a bevy of awards. Our talented team brings cinematic creativity to communicate your story through video.
Art In The Pursuit Of Commerce
With the explosion of video online, 74% increase in people's understanding of your product or service, while 100 million Internet users watch video online. Our work is tailored to a wide variety of styles and uses:
Scratch Media Video Services
With movie-like quality and storylines like the best-told story, our video production services not only win us awards but win you customers. We're also well known for our highly stylized, complex 2D and 3D animation and amazing post-production services.
National Television Commercials
Company Branding Videos
B2B Videos
Biographical Videos
Case Study Videos
Corporate Presentation Videos
Documentary
Product Launch Videos
Web-Specific Videos
Viral Videos
Educational Videos
Instructional Videos
Studio Facility
Scratch Media's beautiful soundproof studio provides clients with the ability to produce the most complex and sophisticated shoots.
Learn more >
If you're looking for a video production company who can tell your story and add exceptional cinematic quality, you've come to the right place.
Call us at 760-230-1758 or contact us by email.
We Develop Creative Video Concepts
Our talented creative directors and writers have experience from feature films, network television shows, journalism and advertising agencies.
We're a Different Kind of Video Production Company
Scratch Media does things differently than most video production companies. For over two decades, we've collaborated with marketing departments, giving us a unique perspective into the challenges they face. We know the importance of ROI and respect budgetary constraints. We listen and develop creative video concepts that nail the brand. That's why everyday clients ask us to come up with the most compelling concepts and innovative ways to tell their story and communicate their message.
Creative Video Concept Development
Oftentimes clients tell us what results they want from a video. Yet, they want creative direction on how to get there. They want a solid concept. This is exactly what our Creative Services department delivers and one of the many reasons we're different than many other production companies.
We draw from a talented group of creative directors and writers from the world of feature film, network television, journalism and national advertising agencies. In the concept development process, we explore multiple solutions to execute the narrative content, visual style and graphics, music and sound. This step guides us to connect the most effective production techniques that connect with your audience and give you the best results.
It's Cut and Paste
Following our concept brainstorming including research, visual attributes, story outlines and storyboards, scripting and pre-visualizations, we assemble, that's the cut-and-paste part, and formulate the ideas and elements to present you with final concepts.
Get Creative Direction
Have an idea for a video and want guidance to better see your vision? We want to hear from you. 760-230-1758 or contact us.
Let Us Capture Your Live Events
We have the experience to create and produce beautiful, seamless staging and production for your live events. Take your live event to the next level with Scratch Media videography production.
We Create Memorable Live Event Videos
Working with clients to maximize their brand message, our Live Event department goes to work and meets the demands of some of the most sought-after brands. Staging production must be beautiful and seamless. Scratch Media's seasoned, world-class production crews have the technical expertise to create and produce motivating and dynamic live event videos. We specialize in creating special effects that are designed to support your brand and compliment the live video. Whether it's in these effects, lighting, audio, video projection, and scenic staging and entertainment, we make anything that happens on stage incredible.
Our live event video production services are perfect for:
To discuss your live event, call us at 760-230-1758 or contact us
Need to Rent a Sound Stage?
We have the largest commercial sound stage facility South of LA County. It is a state-of-the-art, climate controlled, soundproof stage Our studio is used for commercial shoots, documentaries, TV programming, and still photography projects.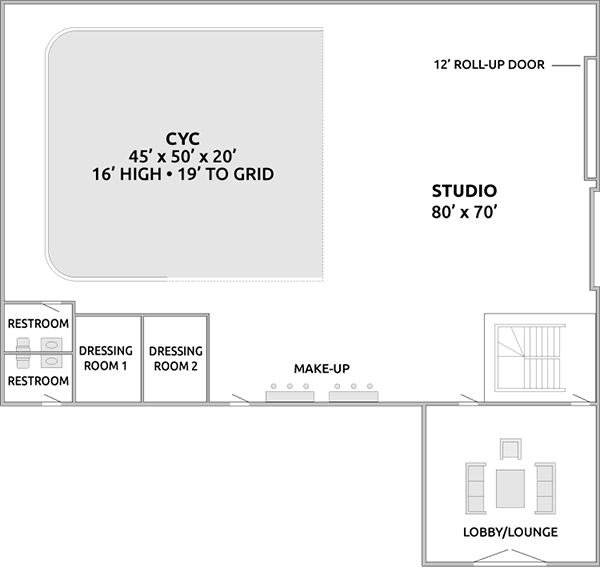 Time Lapse Video
Watch the time-lapse video of the building of the video studio sound stage.
Our studio is easily accessible from Los Angeles, Orange, and San Diego counties.
Studio 760
3254 Grey Hawk Court, Carlsbad, CA 92010
Rent Our Studio Facility

To book our soundstage studio, give us a call at 760-230-1758